Altmark
Research Unit Altmark (founded July 13, 2017)
Head is Rüdiger Sachtjen.
Requests via BGG-FST-Altmark
---
Landscape Altmark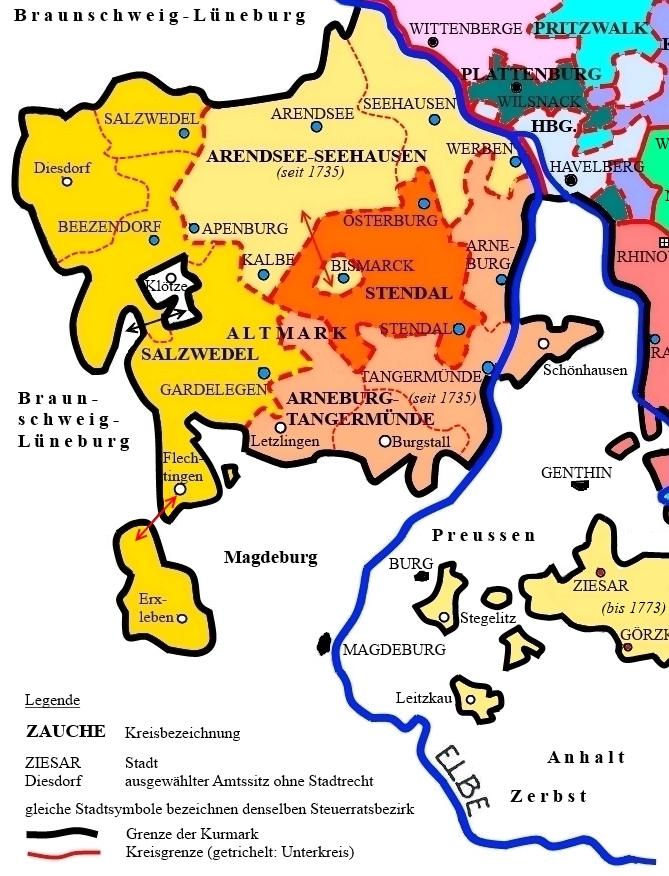 The Altmark is now a region in the federal state Sachsen-Anhalt. The historical landscape stretches out from the Drawehn in the west to the river Elbe in the east, bordering the Magdeburger Börde in the south and the Wendland in the north. The designation Altmark appeared for the first time in 1304 as Antiqua Marchia (Old Mark) and refers to the West-Elbian starting point of the establishment of the Mark Brandenburg. Thus, it is sometimes referred to as the "Cradle of Brandenburg" or even the "Cradle of Prussia." It belonged entirely to Brandenburg from the foundation of this margraviate and the Prussian state which developed on it until 1806.
Today the Altmark is partitioned into Altmarkkreis Salzwedel and Landkreis Stendal.
Altmarkkreis Salzwedel
Area: 2.293 km2, Population ca. 86.200, Municipalities: 13
Landkreis Stendal
Area: 2.423 km2, Population ca. 115.200, Municipalities: 25
Districts of the Altmark until1806
The Altmark was characterized by a peculiar district constitution. As a province or main district it was made up out of so-called subdistricts, which were partially consolidated prior to 1806. These subdistricts were not legally independent and were administered by the district "directorium." The directorium of the Altmark in Stendal comprised a district director, a war and tax advisor, and a district administrator who were responsible for six districts: Stendal, Tangermünde, Arneburg, Seehausen, Arendsee und Salzwedel. Starting in 1735, Arneburg-Tangermünde and Arendsee-Seehausen were under one district administrator.
An additional peculiarity is the Altmark-Prignitz Kammerdeptuation as the only branch office of the Kurmärkischen Kriegs- und Domänenkammer (KDK). It was responsible for the main districts Altmark and Prignitz from 1770-1790. On the one hand, this is probably due to the subdistrict organization, but on the otherhand probably due to the distance from Potsdam. This method of organization has treated us to particularly good historical transmission, since the offices in Stendal did not adequately complete orders from the KDK to clear up their documents and records. After Napoleon's victory over Prussia in 1806, the Altmark was separated from the Kurmark and integrated into the new kingdom of Westfalia. Following Prussia's reconstruction in 1815/17, it was then integrated into the new Prussian province Sachsen, which until today has remained separated from Brandenburg.
Regional Research
According to the wishes of the members and the historical affiliation of the Altmark to Brandenburg, we have established a research unit. The region is also served by the AMF and the Arbeitsgemeinschaft für Genealogie Magdeburg.
The BGG and the Arbeitsgemeinschaft für Genealogie Magdeburg are both members of the:
Arbeitsgemeinschaft Genealogie Magdeburg im Kultur- und Heimatverein Magdeburg
Thiemstr. 7, 39104 Magdeburg
Email: AgMagdeburg(at)genealogienetz.de
Person responsible: Horst Kötz
Links: